We are profoundly sad because on November 30, 2022 we lost our our dear friend and musical brother, Jim Davis. We are beyond privileged to have known him, and to have made music with him countless times. Brad bonded with Jim from the days they roomed together on the road, and when they played together with Paul Oscher, Dean Shot, Hubert Sumlin, Christopher Dean, Al Krotoff, Johnny Rawls, and many others. When Brad formed his own group, Jim joined as a founding member of The Vestapolitans. His brilliant sax—and clarinet—playing, and incredibly rich tone added so much to our sound, and he contributed so many great riffs and solos to our performances—and to every one of our recordings. We will miss him enormously, and I will cherish his memory. We send peace and love to his wife, Carol, to his family, and to his many friends and fans.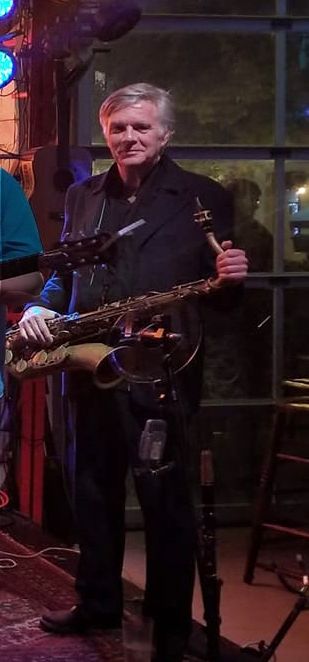 Jim Davis, blues sax man died in New York, NY on November 30, 2022. He was 71.
Jim was born Boston, and grew up in Waltham, Mass.
During a short stint at Berklee, when he was also an MIT radio DJ, Jim discovered that he and academia were not a good fit. Instead, he schooled himself by working in the burlesque houses in Boston's infamous "Combat Zone." It was there, playing long shifts to jaded audiences that Jim developed his audaciously creative soloing style and a "killer" tone on tenor sax that could stand alongside great R'n'B honkers like Hal "Cornbread" Singer, Al Sears, Gene Ammons, and Arnett Cobb—some of his favorites. 
When he finally "burned out" on the strip club scene, Davis moved to New York, rooming on the Bowery with jazz pianist Gilly Coggins. During this period he studied sax with Bob Mover and played with a variety of jazz artists, including drummer Cliff Barbaro and pianist Ira Meltzer in Meltzer's Medicine Show, drummer Dennis Charles, and played and recorded with performance poet/harmonica player Dave Rubin. 
Jim became an in-demand player on the blues scene, working with innumerable sidemen and——among others——bandleaders Ron Sunshine, Dean Shot, Christopher Dean, Johnny Rawls, Andy Story, Bill Hunt, The Frost Kings; and with Steve Lucky's jump band, which included a stay in Europe, based in Switzerland. He also played and toured with the art-rockabilly band, The Gas House Gorillas, in whose music video, "Party on the Second Floor" Jim stars theatrically as "irate neighbor."
Some of Davis' notable memories from this period include playing sax—perhaps as a safety net—alongside Bill Clinton, during his 1992 campaign; and playing in a "super group" with Hubert Sumlin, Levon Helm and Jimmy Vivino in Atlantic City NJ.
It was in harmonica-great Paul Oscher's band that Jim met Brad Vickers who was playing bass. When Vickers formed his own band, The Vestapolitans, in 2008, Davis joined as a founding member where he continued to be an important voice on both tenor and "Albert system" clarinet for the rest of his life. His brilliant playing, creative riffs and solos, and his incredibly rich tone can be heard on each of their seven recordings. 
Jim's playing has been singled out in many reviews. For example, he's been cited as "A gutbucket tenor straight out of early R 'n B" —Jim Hynes, Making a Scene, US, and "Super as a saxophonist throughout, Davis delivers a dirty and cool tenor sax solo" —Steve Jones, Blues Blast, US.
Jim is survived by his parents, Daniel and Vella Davis, three brothers, Michael, Daniel, and Robert, and his wife, Carol Dudek.